About Us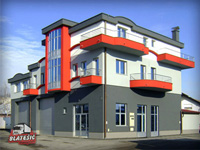 Our company is specialized in providing services in international and domestic road transport. All vehicles are properly licensed to perform services in international and domestic transportation. Transport of goods is done with a tilt trucks whose capacity is 25 tons and 22 tons of cold storage. We also offer services such as collective transport, loading and unloading of goods and also distribution of goods inside the country


Our standard routes are the countries of Former Yugoslavija and many countries of Europe. You can find our vehicles very often in Italy, Austria, Germany, Spain, Greece, Turkey, Lithuania, and other countries of Europe.
our vehicles are satellite tracked, so we know in every moment the movement of goods and vehicle, therefore, the goods are fully insured. We have contracted freight forwarder services at all border cossings, so holding for custom papers is in a reasonable time.
History
Blatesic transport founded 1987 year, as independent auto transporter in city of Banja Luka BiH. Since its foundation the firm transportation services were performed in the domestic market. Due to the expansion of growth, the company specializes to provide services also in international transport. Following European standards in transport We have needs to develop and expand our business so we can follow every market demands. With serious work in 2002 we become the transport and trading company. And still operate successfully in the provision of transport services by road.
Recognize great when it's still young. Sun Tzu